Booky Noise III: I'm having a flashback!
I love the idea of time travel.
One of my favorite old TV shows was Time Tunnel, that cheesy series from the Sixties where James Darren would fling himself into a swirling vortex and be transported back to solve crimes.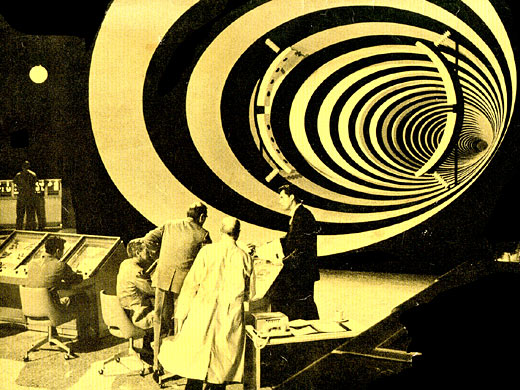 One of my very favorite movies was "The Time Machine" with Victorian hero Rod Taylor traveling to the future to save sweet thing Weena from the Worlocks.


And my favorite cartoon? You guessed it. Mr. Peabody and his dim bulb boy assistant Sherman who used the Way Back machine to travel back in time.


Time travel is way cool. I'd give anything to go back to Fin de siecle Paris or maybe ahead to the someday when we can hop JetBlue to Mars.

But time travel in novels? I don't like it, man. I don't like it when a writer plays loose with my linear sensibilities. In short, as much as I loved the Sixties, I am not a big fan of the flashback. Acid or otherwise.
Now, flashbacks in novels aren't always bad. Sometimes, they serve a very true and useful purpose. But they are not easy to work into your story and even the most seasoned writers can stumble when they leave the linear line and move backwards.
Believe me, I know. Kelly and I are just tonight finishing the final rewrite of our new book. And here I was, reading along in chapter 48 and I hit a patch of writing that made me come to a screaming halt. Note: I said chapter 48. At this very late point in the book -- nay, in ANY book -- the story should be roaring along to its inevitable climax, pulling the eager reader in its wake. But what did we do? In a key scene, we had inserted a flashback for our heroine. It was short, only a half page or so, but when I read it cold today, it stopped me like a brick wall. I didn't WANT to go back and hear this stuff. I wanted only to keep going on the trajectory that had been established.
Flashbacks, as I said, are useful. Even necessary. But every writer must bear in mind that no matter how well they are written, no matter how experienced the author, they are a brake. They bring your forward motion to a stop. So think twice before you use your Way Back machines.

Here are some general rules for using flashbacks:

1. No matter how well written, they stop the story, so use sparingly. They have to be related to the PRESENT action of your story.
2. Don't rely on flashbacks to fill in your backstory. There are many other more effective ways of giving your readers needed background info.
3. Never EVER put a flashback in the middle of a scene of great emotion or action.
4. Like, never use flashbacks in your climax. Do you even need to ask why?
5. When you do use a flashback, keep it very short. Then get back to the story as fast as you can.


Now, let's move on to today's Booky Noise Workshop. And I will pose the question: Can flashbacks work in an opening?

Today' s entry for our consideration comes from Gregory. He acknowledges that his flashback opening might be tricky, but he would like your feedback:



The first time I died, I was too young to fully appreciate it.

There was no tunnel of bright light. No chorus of angels. No movie of my life playing as I rose up, freed from corporeal form.

It began with a warning: "You better get down from there. You're not Superman, you know."

At seven years old, Chrissy had already perfected the hands-on-hips posture of authority. My other friends didn't give her a second glance. A dozen sets of eyes followed my rapid ascent up the oak tree.

"Do it," Donnie said, flashing a wicked grin. "I double-dog dare you."

"I d-d-don't think he-he-he'll make it." Sanjay's treacherous tongue glowed fruit-punch red.

Eighteen years later, I still can't smell Hi-C without getting nauseous. Funny how the mind works.

It took one more boost to reach a clearing between the canopy of leaves.

"My mom said to wait 20 minutes before going in the pool." Timmy, the birthday boy, pointed to an egg timer.

My altitude provided a direct view into the second-story windows of the McDade house. There was Timmy's bedroom, with a pile of unwrapped gifts left on his bed. Adult voices mingled with cheers for a televised football game.

I shimmied onto an overhanging branch, which bowed under my weight.

The task at hand was tricky: clear the patio railing, carry the concrete deck, miss the diving board, and dry my sneakers before mom picked me up at three.

A breeze excited the decorative helium balloons, swaying my thin perch.

"I'm gonna tell," Chrissy said.

"You'd better not, Prissy," I shot back.

"If you come down, I'll give you one of my new Transformers," Timmy said.

Donnie chimed in, "If he jumps, I'll give him two."

Before Timmy could raise the stakes, the egg timer buzzed. Like any good performer, I took the cue and pushed off the branch — launching into space.

No problem clearing the patio and pool deck, but my trajectory was off the mark. Instead of splashing into the deep end, I fell towards the steel ladder.

Arms flailing, I tried to air-brake. Missed the ladder, but unexpectedly landed on a floating boogie board.

On impact, the foam board shot out from under my feet and I tumbled backwards. A glimpse of sky, then black.

Weeks later, Timmy visited me in the hospital. He said it sounded like a cherry bomb when my head hit the diving board. Evidently, I sank before you could say: "Marco Polo."

To me, it was all dark. No thoughts, no feelings. Don't even remember swallowing water.

It took numerous reports to piece together what happened next. Timmy turned out to be the least reliable source, as he was primarily concerned with how this would affect his Nintendo privileges. He took one look at me, curled in the fetal position at the bottom of his pool, and promptly hid behind his parents' BBQ.

Chrissy took her hands away from her mouth long enough to scream, "Call Nine-One-One! Call Nine-One-One!"

Nobody else moved. Donnie wet his pants.

The little bastard never did cough up those Transformers.